Successful Yet Inexpensive Flyer Example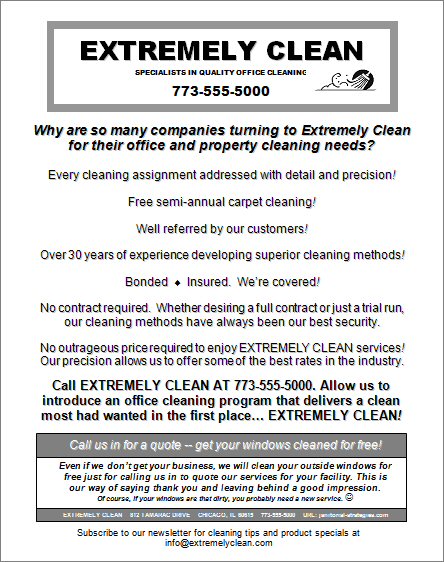 In this example, the phone number is clearly visible. I've invited the customer to call and repeat the number several times. A physical address is included that legitimizes the company's actual existence. Also included is an optional URL address to advance interest should they visit. My opening statement's style is rhetorical and makes it appear that many companies have indeed turned to my company because of very specific reasons which, having boosted my company's reputation, allows me to confidently make such a bold claim. Whatever opening statement style you choose, it is just as important in your flyer to either list what services you provide and/or discussing the benefits of using these services.
It isn't always necessary to include a special offer as I did at the bottom of this flyer (free exterior window cleaning), but do have a space like this available for future specials or use it to list all neighboring businesses you have acquired and are proudly servicing.
By always making a point of listing the neighboring businesses that you are presently servicing, you increase your chances manifold of picking-up new work. As prospective clients watch the list grow, they may satisfy the intrigue you're generating by giving you a call – inviting you in to discuss your success in the complex and, of course, to submit a bid. The box in the bottom of the flyer displaying neighboring accounts would then look something like the following:

Make sure you put the company's phone number and primary contact so the prospective client can not only call these companies but call the right person (others in the company might be indifferent and give wrong information).
You might argue that we're getting ahead of ourselves by displaying accounts in your ad that you don't even have yet. But it's important to know when pursuing additional work. Now let's go hunting for those businesses that are grouped together in a manner that are indeed immediate neighbors, increasing the chances of not only multiple clients, but clients that are significantly easier on your budget – requiring considerably less costly equipment.

Chapter 8__Select Businesses for your Flyers